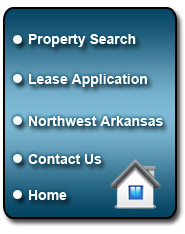 Sexton Associates, Inc.
PO Box 8007
1061 E Joyce, Suite 5
Fayetteville, AR 72703
479.521.5894
800.329.0108 [Toll Free]
479.521.1911 [Fax]

info@sextonassociates.com
All properties depicted on
this site are real Sexton Associates owned properties.
---
Homes for Rent in Northwest Arkansas
Sexton Associates has a reputation of quality service in Northwest Arkansas, and our professional staff strives to match you with the perfect rental home to fit your specific needs. We have been serving the Arkansas cities of Fayetteville, Springdale, and Rogers for over 30 years and are specialists in the rental home business. We offer a variety of homes for rent, ranging from spacious layouts for families, to larger executive homes for those seeking upscale amenities.

Our Northwest Arkansas rental houses feature stoves, dishwashers, garbage disposals, garages, and either a patio or deck. Most of our rent homes feature fireplaces, crown molding, window treatments, and fenced back yards. You will enjoy the visual appeal of the professional landscaping around our rental homes and the comfort of having a 24-hour staff on call. Fayetteville, Springdale, and Rogers all offer a unique variety of entertainment, shopping, and recreation in Northwest Arkansas. Whether you are a current or former resident of Northwest Arkansas, or a new comer to the area, let Sexton Associates find the perfect rental home for you in Washington County or Benton County.

For more information on rental homes, or to complete a lease application, click here.